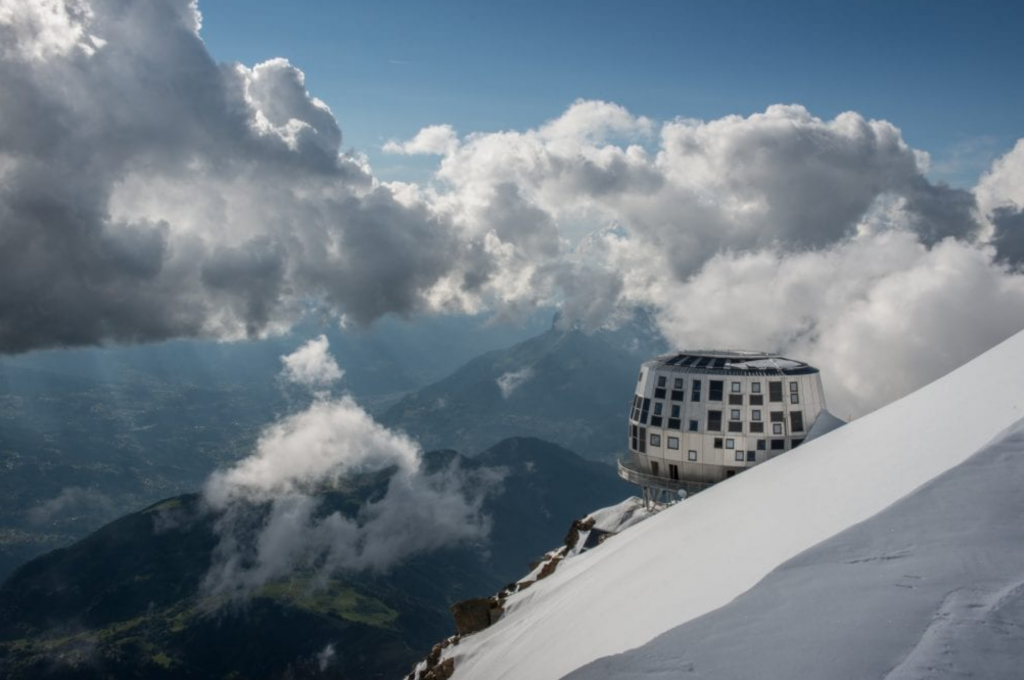 The material of the envelope is a response to the climate and the environment.
With its summit at 4,810 metres, the Mont-Blanc becomes the holy grail of thousands of alpine mountaineers every year! Built at an altitude of 3,835m, the "refuge du Goûter" shelter constitutes the last stage of the normal – or royal – route before the final ascent. The shelter was built in 1962 and has been the object of intense usage but is now under menace from the advancing glacier. It is being replaced by a new audacious construction, in the form of an ovoid placed perpendicularly to the ridge over an advanced rockface.
The shape and location are two radical options taken to minimise the amount of snowdrift build-up and allowing the west wind to slip freely over the cliff. Identifiable by its thick folded stainless steel body, a snow melter tank with eight anti-stagnation devices completes the installation.
With temperatures as low as – 40° C, the idea is to create an environment akin to a soup-tin with a capacity of 120 people. Aside from the cocoon-like interior and the varied equipment designed to provide the required autonomy and of course, the extreme environment, specific research has been conducted in order to choose the exterior cladding. This had to be an evaluation of several types of metallic "skins", in terms of their characteristics; deformation, resistance, visual aspect, fabrication, ease of installation and recyclability.
A 304L grade austenitic stainless steel siding proved ideal for the extreme conditions encountered in the pure mountain air and was compatible with the budget of the construction project. A four month study was necessary in order to define the details of the assembly and determine the profile of each facet to allow for easy assembly on-site. A novel assembly technique was devised, using a Z shaped profile of the steel bands on the upright and flat junctions, to insure constant flatness of the cladding, with hollow junctions of the same type of steel as the facets. Additional difficulties came from the windows and photo-voltaic panels which had been installed prior to the cladding.
Another imposed requirement in this protected and very popular site constantly over-flown by medical or surveillance helicopters, was to prevent unwanted shiny reflections that may dazzle pilots. The external cladding was made from 304 grade stainless steel with a Uginox top coating, 0.5mm thick for the covering and 0.8 and 1.2mm thicknesses for the sides. Each facet is "lit" by sunshine, just like the faces of the Mont-Blanc itself, as the sun runs its course through the day.
Info
304/1.4301
Uginox Top/Uginox Mat
0.5 & 0.8mm/1.20mm
Technical
Location Saint-Gervais, France
Architect Groupe H et Déca-Laage
Photo ©Pascal Tournaire