UGINOX Top is manufactured according to the typical stainless steel manufacturing process up to the rolling operation where the patterning process takes place.
This engraving operation is conducted with specially prepared cylinders on a matt annealed base (2D).
This engraving technique used enables both a uniform and reproductible finish for the different grades and dimensions.
This production method is certified to the standards ISO 9001 and ISO 14001.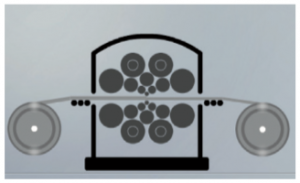 The engraving is conducted during the rolling operation.

The pickling and annealing stage restores the ductility of the metal and optimises the matt finish.
A guide to the choice of grade relative to atmospheric exposure

The choice of stainless steel grade for a roofing application must take into account the environment in which the material will be used.


The UGINOX Top finish is available in coils, slit coils and sheets.
Their mechanical properties comply with norms EN 10088-2, EN 10088-4 and ASTM A 240.
Key strengths
This surface finish is characterised from its installation by a permanent and durable matt finish.
Good corrosion resistance.
It blends into all types of environment, both rural and urban, traditional or modern, and is suited toall styles of architecture.
Applications
Roofing: fully supported roofs, self-supporting roofs, batten roll roofs.
Facade: cassette, panels, shingles
Cladding : profiles.
Accessories: gutters, downpipes.
Construction products manufactured comply with the CE standard.